Pop-Up Control Towers
Control towers mounted inside power vans are the heart of the crusher control centre. They are raised and lowered using a 12-volt hydraulic scissor lift and are pin-locked within the tower mounting frame once in the operating position.

Designed with health and safety in mind:
Optional positive pressurized cabin reduces exposure to dust, silica and other environmental contaminants.
Tower interior noise reduction.
Interior & exterior lighting.
Interior climate control' Roll down see-through blinds.
Rear access (escape) full glass door & aluminum floor hatch (Popup)
Plenty of room for control panel, phone, computer controls etc.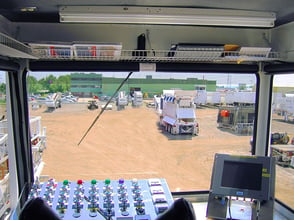 The standard 6X10' tower features a 62" front window, 48" tempered glass rear access door and large sliding side windows. The view from the fully adjustable captains chair is unobstructed and unparalleled. Equipped with state of the art interior climate control for the ultimate in year round operator comfort, all ELRUS towers feature bronze tint laminated safety glass, acoustical foam interior with 11/2 " insulation, heavy duty rubber flooring and stainless steel kickboards. The control towers are available in 2 styles: pop up to be mounted inside control vans and stationary models that can be placed in any number of ways including mounted on tandem axle tow trailers.
Pop up tower sizes are available in 6X8', 6X10' Stationary towers available in 6X8' thru 10X14'