What is the biggest idea you can apply and see added profits for little to no cost?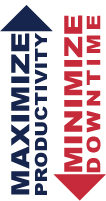 The answer is pretty un dramatic... an adequate crushing and screening record keeping system. That's right; an adequate record keeping system that tracks production is the foundation of all your attempts to become more productive and for a number of reasons.
First and foremost, you cannot even know if you are making a difference unless you have accurate records to see if what you are doing is making a difference.
Read More