Many operators have a conflicted relationship with screen boxes.
Let me clarify: most operations would love to see more screening capacity and uptime from their screen box, but are loath to spend time working on and inside of one.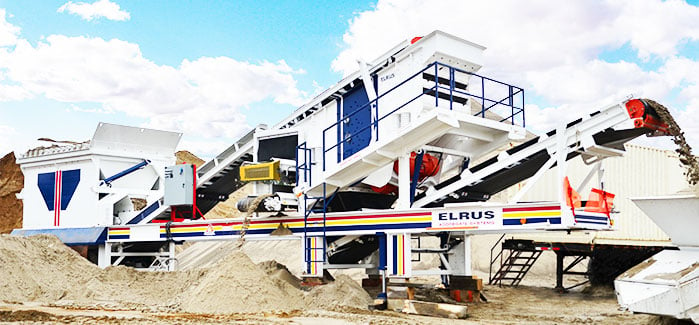 Until the product is successfully screened no money is made, yet it is typically the greenest crew member that gets stuck inside the screen box during a screen change or doing deck inspection. A reality that underlies the importance of a quality inspection and winter rebuild: most production bottlenecks occur at the screen box.
Whether it's in between seasons, jobs or as part of a planned downtime/maintenance program, here is a list of maintenance checks and product upgrades that should be considered:
Structural Considerations
Take a close look at the condition of the trays, sidewalls, and support tubes. By its very nature, the shake of a screen box will eventually break down the structure that holds it together. Getting out in front of any broken welds or worn structure will prolong the life of the box. Consider rubber or urethane lining options that will greatly increase your screen box's wear life.
Springs
Shutting down to change compression springs is in the field can be easily avoided by measuring them now, and checking the measurements against OEM tolerances. If they are out of tolerance replace them as a complete set. Worn springs means the screen box will not shake properly, and result in decreased production.
At startup and shut down, tension springs controls the "bucking" action of the screen box. This prevents it from damaging the surrounding structure and framework, while keeping tension on the v-belts. Yet on many plants they are completely neglected. Ensure that they are still installed and properly tensioned; try sliding a credit card receipt between the coils to check tension, it should pass through snugly.
Crown Bars
Ensuring that you have a proper and continuous crown on all decks is the best piece of preventative maintenance that can be performed. A damaged or improper crown will lead to premature screen media failure, inefficient screening, and unscheduled downtime. If you need to repair your crown bars, ensure the proper crown bar heights are maintained. Refer to your Owner's Manual or check with the OEM for these dimensions.
Always use crown rubber to protect bars when running without screen cloth.
Feed boxes/Transfer points
The most common solution to feed point wear is to weld an AR plate to the floor or to bolt some used conveyor belting to the chute. Both are viable solutions, but also consider getting some thicker wear rubber that will outlast conveyor belting, and have a similar (if not better) wear life to AR plate without the need for welding.
Screen Media Hardware
Conduct a thorough inspection and inventory of your various screen media hardware. Look at the condition of the heads and threads of your shaker bolts; running the threads of the bolt across a wire wheel can clean out excess build up on the threads. Replace clamp bars that are getting thin or caving in. Doing this will greatly improve the wear life of your screen media. When replacing worn clamp bars, make sure you are getting the proper OEM clamp bar profile. If you are not satisfied with the wear life of your clamp bars, look into rubber or urethane lagged clamp bars.
Do you have enough crown rubber in inventory? Having different crown rubber thicknesses available will allow you to manipulate your crown that can greatly improve media wear life and product throughput. A complete change out of a typical 6x20 triple deck screen box requires at least 300' of crown rubber, so plan your inventory accordingly. Urethane crown strips can be a big initial investment, but the cost savings do not take long to realize, as change outs of these strips can be completed in a quarter of the time.
Improved/Safer Material Flow
Rocks being thrown from the screen box are an extremely high safety risk, especially in scalping applications. Polyurethane wall extensions decrease the likelihood of rocks clearing the screen box. Installing rubber curtains will slow material as it progresses down the box. This will increase media longevity and screening efficiencies.
Some operations have found that creating a dam on the feed chute can lead to better screening as the material starts at the front of the screen with the proper bed depth. This can also reduce wear in the feed chute as a rock shelf is created for the screen box feed to hit.
Maintenance Seminars
Most reputable suppliers have the ability to conduct offseason maintenance seminars. These help to improve screening efficiencies. What is the proper lubrication schedule? How do you properly install tensioned screen media? Let your supplier help bring crew members up to speed on the recommended best practices.
As with any winter maintenance project, erring on the side of caution always pays off in the long run. Money spent today is made up for in spades when you consider the dual drain of lost production and increased parts spend during the crushing season.
These are just some of the things to look out for. Feel free to leave us your tips and suggestions by leaving a comment in the form below.
Still Having Screening Problems
If you've performed all of your inspections and maintenance, repaired everything that needed to be fixed and your screen is still not getting the production you're looking for, it might be a good time to connect with someone from our parts and service department. Perhaps we can help. You can find your closest branch on our contact page.
---
Since You're Here Anyway
Why not check out our MS612 Screen page and see how ELRUS Engineers have incorporated the latest screen design technology to produce a machine that allows:
Faster, Easier and Safer Screen Media Change

s – Under 3 hours on all 3 decks

Simplified Maintenance and Service
Is Easier to Move, Setup

and

Use
Has a Smaller Footprint Without Sacrificing Production